Your #1 natural solution for Heart Health*
<back to store
ARGININE MIRACLE® | Stick Packs
Pick from 8 Flavors - Servings: 60 per/bag

BUY A 3-PACK and save: $30
SUBSCRIBE and save: $50
60-6.5g individual stick pack servings per bag

The same scientifically proven NITRIC OXIDE BOOSTING formula is back with a new fresh look in 8 delicious flavors! With our new subscription box, you choose three items from our entire assortment of jars, stick packs, and flavors.
Never go without ARGININE again! Log in to manage your subscription, change items or flavors at any time.
Need more flexibility? No problem, click here to design a customized shipment program that suits your needs based on your schedule.
---
PRODUCT DETAILS
Proudly made with heart in the USA - ARGININE MIRACLE® is a unique, brand new formulation 28 years in the making. A NITRIC OXIDE BOOSTING formula that may help to naturally reduce high blood pressure, reduce hypertension & cholesterol.* Take our 60 day heart health challenge, you'll love the results or your money back!

DIRECTIONS FOR USE

1 | As a dietary supplement, combine one scoop with 10-12 fl oz of water two times daily or as recommended by your health care professional

2 | Stir or shake until dissolved.

3 | For optimal nitric oxide production 24/7, take each serving 12 hours apart on an empty stomach.
DIRECTIONS FOR USE

1
As a dietary supplement, combine one scoop with 10-12 fl oz of water two times daily or as recommended by your health care professional

2
Stir or shake until dissolved.

3
For optimal nitric oxide production 24/7, take each
serving 12 hours apart on an empty stomach.
---
---
Take one 6.5g serving of Arginine Miracle® two times per day, 10-14 hours apart. Take it on an empty stomach a half-hour hour before food intake or 2 hours after food. It is best when taken with 12 ounces of water for maximum effect and absorption. Doing that may help to saturate the body with arginine.


If you don't experience results after the first 60 days. Take three 6.5-gram servings per/day, 8 hours apart, with 10-12 ounces of water, preferably on an empty stomach.
Note: always consult a physician before using this product if you have a severe medical condition or have had a heart attack before altering your daily health routine.

WARNING: Consult a physician before using this product if you have a serious medical condition or have had a heart attack. Do not exceed the recommended serving size if you have a bleeding disorder, use blood thinning medication or are considering surgery. Women who are pregnant or who may become pregnant should consult a doctor. Keep out of the reach of children. Store in a cool, dark & dry place.
ALLERGY WARNING: Made in a facility that processes milk and soy.

*These statements have not been evaluated by the FDA. This product is not intended to diagnose, treat, cure or prevent any disease.

1Free 1-Week trial does not include shipping & handling - Limit (1) per new customer
2Free shipping offer is only available in contiguous United States. Overnight shipping is available for additional cost, call our toll free number at +1 (888)-270-3666 to expedite.

Customer Reviews
09/10/2021
Great product
Shipping to Canada is expensive
Cliff H.

Canada
05/25/2021
Amazing Arginine Miracle
Best supplement in the world.By taking it, you become a new divine person!
Marios K.

Cyprus
04/05/2021
Arginine
Fine. Tastes good not sure it does anything.
Brent H.

United States
04/02/2021
It's working!
So far it's going well, started noticing a difference in the first week. On week 3 now and feeling and seeing the results. I believe it will keep getting better and making a big difference vs the prescription drugs.
Paul M.

United States
03/29/2021
Satisfied customer
My family has been using your product for many years. In fact, it helped my father recover from a kidney stroke a few years ago. I'm still a loyal satisfied customer. Nothing to complain about.
Oscar R.

United States
03/10/2021
great product
makes me feel great. lots of nitric oxide
Timothy S.

United States
02/08/2021
Great experience
Quick and easy packaging. Perfect for on the go lifestyle.
Darryl B.

United States
01/26/2021
Perfectly easy
quick and easy to order, love the packets, so easy
Marilyn K.

United States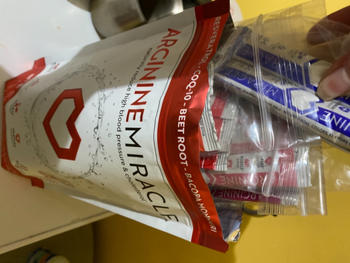 01/18/2021
Seeing Improvement
My blood pressure had been running a little high after a bout with a gallstone block that led to mild pancreatitis and gallbladder removal. I did not want to stay on chemical medication . I did some research and found Argenine Miracle. Gave it a shot and after 3 months of taking it I am seeing normal range BP and I feel more energy overall. I feel like it helps my digestion too because it has quite a few liver friendly ingredients in it, beet root, artichoke leaf, milk thistle all are great for promoting bile flow, detoxification and helpful in the prevention of fatty liver. I love that it has vitamin D. It tastes nice too, refreshing. I get the variety pack. Grape, blue raspberry and elderberry are my faves but they're all good.
ANNE S.

United States
01/18/2021
Good overall
I've been taking this for several years now. Sad thing is I don't FEEL it working, and must go on faith alone. But from all the info I've seen, it appears it is the best Arginine product on the market. I also appreciate Bob's replies & info when ever I ask about something. I wish there were tests that would reveal that it is working, if there are plz advise!
Michael C.

United States
10/28/2020
Perfectly easy
I love the packets, less messy and so easy. Can travel with them easily and just makes it so nice.
Marilyn K.

United States
10/01/2020
Long Time Customer
My experience with ARGININE MIRACLE has been excellent. I'm 77 years old and I take zero meds and received excellent results from my physical blood work this past week. I attribute much of my excellent health to ARGININE MIRACLE. I started the Stick Packs and like the ease of use and storage freshness after 30 days. I tell everyone about this product and after years of encouragement, finally got my brother to take it. He read "The Cardio Cure", or at least I gave him the book to read but needed open heart surgery to get his attention. Don't be that stubborn to listen to sound advice. I"m fully convinced had he started with AM years ago he would not have had to endure open heart surgery. We are 18 months apart in age and he takes blood pressure meds as well and could have avoided that. Over 4 years ago I encouraged a diabetic friend to take AM and he did. His severe Neuropathy went away and the way he knew it was AM that helped was when he forgot to take it with him on vacation and in just 2 weeks it returned, however, after less than 2 weeks of taking AM, his Neuropathy went away. Why it takes some people so long to act on sound advice is a mystery to me even when I share them my personal health experience they must think, "oh that only applies to him" and when they begin to see results they say, "I wish that I had acted upon this earlier".
Glenn R.

United States
09/24/2020
No evidence of improvement
To be perfectly honest I have not recognized any improvement in my overall health at this time. As a health practitioner and martial arts instructor a base my review of your product on two things, individual performance and scientific evidence. As stated above up to this point the product has not improved my performance. check back with me next month after the blood test is completed.
Carlos R.

United States
09/18/2020
Love Arginine Miracle
Arginine has allowed my husband to drop his low dose blood pressure med, he feels great and I like that he is not on drugs but an all natural supplement ❤️
Teresa W.

United States
09/18/2020
Stick packs
I love the stick packs for traveling because they're so convenient. Also I know I'm always getting the correct amount each time. Great idea!
Mark V.

United States
09/04/2020
Great, Natural Product
I feel so much more energized when I take it. I love how there are different flavors to choose from.
Tim P.

United States
08/12/2020
Stick packs
I did not receive exactly what I ordered which was the stick packs. I received the 3 tubs. However I do love the product.
Roberta P.

United States
07/06/2020
Good Stuff!
The manufacturer is pleasant and takes time to teach. The product is delicious but more importantly really works! The convenience of stick packs makes a more enjoyable experience. Their are other products that work which I have tried.... But this one, so far, is the best. I am a returning customer.
Wesley H.

United States
07/03/2020
There is Hope
Amazing results. It's a relief to be able to get off blood pressure pills as they are so damaging. I was always out of breath and having problems with my kidneys. I saw results almost immediately. It works a little at a time until you no longer need blood pressure pills if you follow instructions in taking the arginine.
Edith G.

United States
06/23/2020
New customer
I noticed a lower blood pressure right away, any other effects are not yet noticeable
John K.

United States